We have 3 former Community College Carpentry Instructors (and current working carpenters…) that have put together a comprehensive refresher program to help working Carpenters and Apprentices gain the skills they need to challenge the I.T.A. Exam and get their Red Seal Certification.
Integrated Carpentry Tutorials Intro
We cover the 7 Modules required by the CCDA Inter Provincial Red Seal Exam:
Common Occupational Skills
Planning and Layout
Concrete
Framing
Exterior Finish
Interior Finish
Renovations
The course costs $1,200.00 and consists of a minimum of 8 hours of instruction per module. * Any student who feels they need extra or remedial instruction can work one-on-one with me during the week. And, any student who has paid and attended a module can come back and re-sit that module as an added refresher, should some time elapse before they write the exam!
There are 4 options available: Weekend courses,
3 Day Courses, Weekday Courses and Camp Courses.
Weekend Course:
3 Consecutive Weekends:
Saturday: 8- 4:30 PM,
Sunday 8-4:30 PM

Three Day Course:
Friday: 8- 4:30 PM,
Saturday: 8- 4:30 PM,
Sunday 8-4:30 PM

Weekday Course: Monday~Saturday: 8:00~4:30

Camp Course: via Skype / FaceTime

All resource & reference material will be provided. Candidates will be required to provide their own rafter framing square, (with the Rafter Tables stamped into the blade), a tape measure, and a non-programmable/non-trade specific calculator like the Sharp EL 520 WBB or the Sharp EL 520 X.
We also strongly recommend that where possible, you take the course with a friend.  Not only with this help you to stay motivated to challenge the exam, there is a real bonus studying material with a partner.  The peer-mentoring aspect that invariably happens when you study with a friend leads to a quicker grasp of the material for both candidates.
This course is not a "magic bullet". Due to recent changes to the content and complexity of the exam by the ITA; it is now a University Level exam. You will need to be focused, committed and motivated to move through the course and successfully challenge the exam. If you can do that, we can do the rest!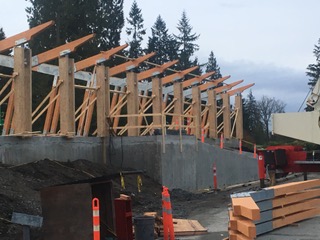 Richard Dickenson will be in Vancouver teaching at the Musqueam First Nation Training Centre, April 23rd through April 26th. Students are then welcome to join me on a Practicum for 2 days (April 27th & 28th) doing Exterior Finishes on a commercial construction site in...
read more
"Richard puts on a great class to prep anyone for the IP Exam. I was planning on going there in person to take the class because I didnt think the Skype class would be personal enough but I was wrong. The Skype classes were a great way to learn from the comfort of of my own home. I had a clear view of the board Richard was writing on and discussions were easy to follow. I encourage anyone to go this route."
~Pascal Lesage, Manitoba
"I was very impressed with Richard's course. It's obvious that he is committed and has a passion for helping Carpenters achieve their Red Seal and advance their career. I've taken a lot of courses lately, and I can honestly say this was the most enjoyable - Richard presents information in way that keeps you engaged, is relatable, and gives you the tools you need to challenge the exam. I joined in via Skype, what a great way to take a class - didn't miss a thing."
Laurie Clark ~ Red Seal Carpenter, Yukon.
"I took Richard's Course to prepare for my 4th year of school as it had been several years since I had attended school and my theoretical knowledge was rusty. After taking the course I feel not only very confident about my chances in school and on the IP, but have also already put much of the knowledge into practical use tackling a Home Design project that will be part of my course curriculum. Richard's course helped me bridge the gap between on the job experience and practical Math and Code knowledge, that I believe defines and gives value to the title of "Red Seal" Carpenter."
Nick Karpen ~ Victoria.
"This course was a great experience. Not only do you get prepared for the exam, but you also meet a lot of great people along the way. Richard does a phenomenal job teaching key fundamental aspects of Carpentry to help you achieve your goal of getting your Red Seal and he does so in a great learning environment~!"
- Adam Curley, Nanaimo.
"I was trying to find a refresher course for carpentry so I could challenge the Interprovincial for five or six years. Finally I came across Integrated Carpentry Tutorials, and I gave Richard Dickenson a call and next thing I know, I am in a class with seven or eight other guys learning the goods on how to get through this exam.
Richard taught us what we needed to know about Building Code, Critical Thinking and a whole lot of Construction Math, which he made easy to understand. Got through the course and I was ready to write. I did not do as well as l had hoped, but I stayed in touch with Richard and he put the course on again in Kamloops. He invited me and the other guys to sit in again at no charge to us, for those of us did who did not get to write or pass the first time because of the forest fires.
Well great news for all of us in that course ~ we ALL passed with good numbers! Richard is the guy you need to contact if you want to get your Red Seal. He helped me and others out with lots of phone calls and Skyping. He was always there to help us, two years after we took the original course
Thanks a lot Richard!!"
Daniel Martin, Kamloops, BC
"An outstanding program, Richard uses his experience as both a seasoned foreman and carpenter as well as teaching instructor in a manner that helps translate the familiar job site practicality into the paperwork and exam work that the ITA requires. He masterfully evaluates the students personalities and learning styles and adapts to work with them while moving the course forward in a smooth manner. A major confidence booster for everyone involved, this course is very highly recommended for any challengers. Thank you Richard for helping me receive my red seal!"
Vance Gushulak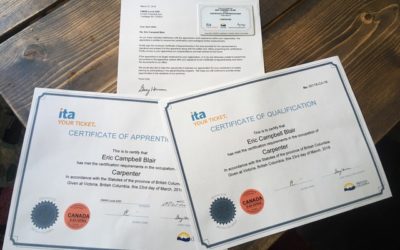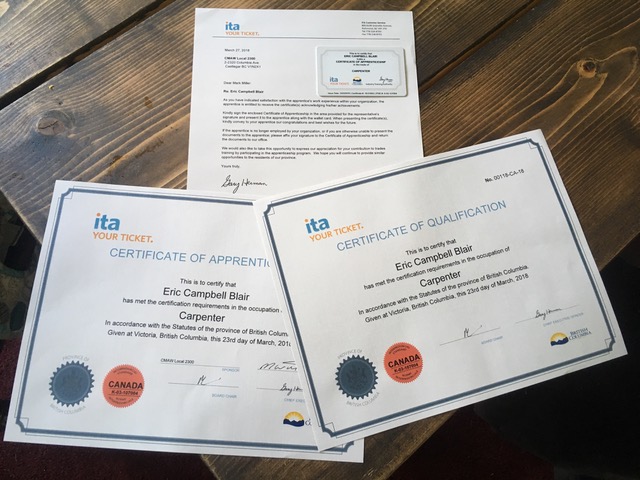 Yao!
Got my $2K Certification Grant today!
Sent you the rest of yer money!
Thanks so much for allowing me to take your course!
I wouldn't be a Red Seal without it!
I'm currently using my Red Seal to change careers and do something different!
But I wouldn't be able to do that without your help!"
~Eric Blair, Rossland, BC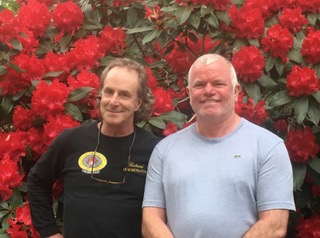 My First INTERNATIONAL SUCCESS Story:
"A big thank you to Richard Dickenson for getting me through the Red Seal Exam-!
All of the course was done via Skype, as I live in the UK.
If it wasn't for this course I would have been lost.
Richard was always on hand to answer any questions I had and I really enjoyed the course, as it was very informative.
Richard is 1 of us~ he is a working Carpenter with a vast knowledge of the trade and is not adverse to passing on his knowledge.
All done in a language I could understand with a lot of humour chucked in for good measure.
If you need to pass this Exam please get the help of Richard, as his approach to passing this exam is, "if you need help he will help you succeed". It was a lot of hard work, but Richard was there every step of the way.
I'm now looking forward to emigrating to Canada with my family, & with me passing this Exam, it hopefully will make the process much easier.
Thanks again for a great course Richard~!! It was great to finally meet you in person~!"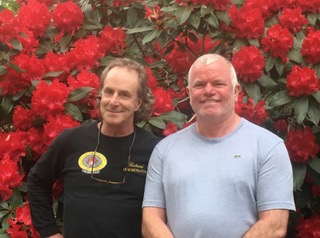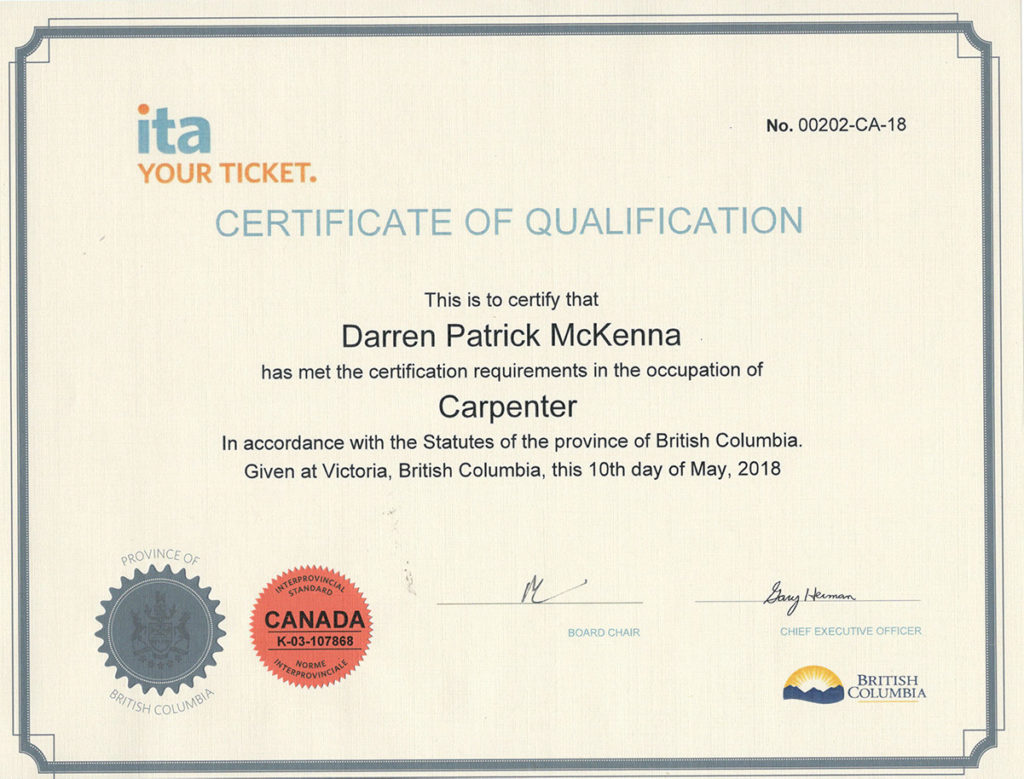 Hello Richard~ I thought I would give you an update as to what I am doing. I have a l
Limited Company, and I will have been in business for 25 years in June.
I am registered with the HPO and I have all my certifications for a Registered Homebuilder.
Since getting certified through your course as a Red Seal Interprovincial Carpenter, I have signed up to the CMAW Carpenter's Union and I have the option to go to the Site C Peace River Dam Project .
Since getting my Red Seal, I also took a course with North Island College and got accepted into the ACFC union for working in the TV and movie industry. I actually got a job offer to work down in Parksville on the "Chesapeake Shores" TV program.
I have not decided what direction I want to take. I just wanted to let you know that getting my Red Seal has given me a range of choices of what I do.
I have not been happy building houses for a number years I make a good living but it's time for a change and thanks to you, I have the ability to make that change.
Thanks again Richard and take care.
Sincerely Yours,
Jim Lagos, Campbell River, BC
"Richard & the Integrated Carpentry Tutorials program takes a unique approach to teaching & structure, catering to the mindset of today's tradesperson. Before attending Richard's class, I had written the Interprovincial exam a few times & was missing the passing mark by 1 - 3%. After coupling the I.C.T. program with diligent studying, as per the National Occupational Analysis for Carpentry (found on www.red-seal.ca), I was able to rewrite the exam & even surpass my set goal! Richard's course & teaching methods put my test anxiety at ease & helped me pass the final hurdle in my apprenticeship, opening up a number of new opportunities to further my career & my skillset."
~Alex McClelland, Vancouver, BC – February, 2018