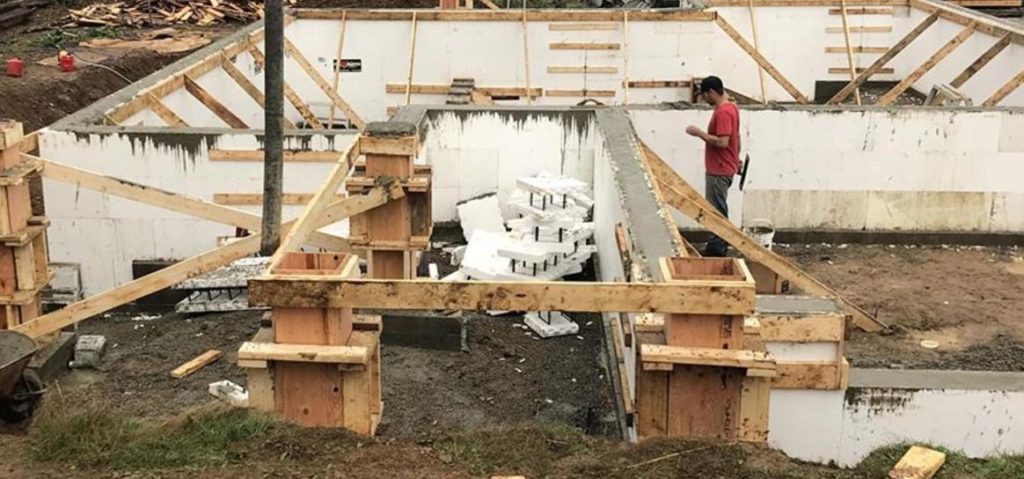 ORIGINAL ARTICLE: https://www.mccollmagazineonline.com/you-re-not-a-carpenter-until-you-have-a-red-seal.html
Ryan Barker 31, was born and raised in Port Alberni, B.C.. "I went to school in Port Alberni, Nanaimo, and Victoria." The building industry caught his attention early, "I started in carpentry between grades 11 and 12 and that's why I went to Victoria to take a construction class in my final year of high school."
Even as a teenager, "I was a construction labourer, mostly in roofing, and later I moved into house construction and renovation. I wanted to apprentice as a carpenter and within the first five years after school I think I had enough hours to do a Red Seal challenge," he laughs.
Work was sometimes sporadic, however, and there were times when getting the hours under apprenticeship was difficult. 'Basically I did the first year of apprenticeship early, then years later I did 2nd year," and he persisted in getting the work until finally, "I decided it was time to challenge the exam."
Enter Richard Dickenson, Integrated Carpentry Tutorials, "I found out about his course — actually my wife saw it on Facebook, and she said I should apply to get on the list. I did the Prep for the Red Seal Exam course, which was delivered in Courtenay over three weeks."
Barker says, "I liked it, it was informal, with lots of information. It's math and a refresher to the memory on things like calculating volumes on concrete," (carpenters do a lot work in concrete; every inch of concrete has to be poured into a form) and all the intricacies on building stairs, trusses, joinery.
"The course was set at the right pace. You have to pay attention, you have to go ahead with all the assignments. For me it was right place at the right time."
On June 20th, 2017 Barker received his certificate of qualification for Red Seal Carpenter. All those years of building houses on the west coast of the island paid off. "I was employed by two different employers in all those years. We built dozens of houses in Ucluelet and and 100 houses in Tofino." He was experienced indeed.
So the time came to start his own business. "I started my own company five months ago, called R. Barker Contracting, in Port Alberni. I decided, why not? I had all the knowledge and all the tools over the years, and had been waiting for my journeyman ticket. Me and my wife made a couple of calls to the business bureau."

It was another move at the right time and the right place for Barker. "We've been super busy since then and I have six guys working for me now. We've been doing concrete slabs, sidewalks, retaining walls, concrete stairs, a lot of different projects keeping us busy through the summer, and now, two weeks ago, we started a house."
To be a contractor on a house construction you need to be a Red Seal. "We continue to do decks and siding and roofs and fencing. Whatever comes up, our name is out there for everything."
R. Barker Contracting is working in the city of Port Alberni. "I've got 2 carpenters and rest are labourers, two guys I picked up had run out of work, and I put an ad on Facebook to hire others."
Port Alberni is where the jobs are happening, which is great for a young man who spent so much time, 10 years, working out on the west coast of Vancouver Island. "Now I am home with the family at dinner time."
The current house building project is from start to finish, "Footings and foundations were done, now the floor system is being built, next is framing and then siding. It's 2,300 square feet and we will be on it for about six months on this build. We started it at the beginning of November and it's progressing well."
Running a business has its challenges, "The stress is there, I can sympathize with the people who employed me over the years. This past summer we would have four or five jobs on the go and I found myself trying to be in several places at once."
Barker's wife Tess does the bookwork and paper work, permit applications, other office duties. Tess and Ryan have two children, Ryson, 7, and a daughter of 4 named Brynlee.
The construction business in Port Alberni is competitive, "but we've managed to keep finding the work, There are quite a few other companies in town. At least the economy is pretty good for building right now."
R. Barker Contracting works right through the year, "Winter jobs are good, and we're enthusiastic about working year-round," including new builds, additions, and renovations.
Barker is from Tla-o-qui-aht Nation in Tofino, "I maintain connections and we spend time with family on the west coast."
Carpentry and building is the right choice of jobs and careers. "We're working anywhere from 8 to 12 hours a day. The Red Seal means everything to me. Ever since I was in high school I wanted to attain this designation." and being on job sites since his teenage years, he learned from the experienced hands that, "You're not a carpenter until you have the Red Seal."
Now he's apprenticing others in the trade, hours are going on the record, "Some of these guys are working toward the Red Seal certification and they have their hours going on the books."
r.barkercontracting@hotmail.com Ph 1-250-730-6377
ORIGINAL ARTICLE: https://www.mccollmagazineonline.com/you-re-not-a-carpenter-until-you-have-a-red-seal.html